- Sponsored Position -
We Don't Run Ads, We Don't Sell Good Reviews - But We'll Sell You This Space?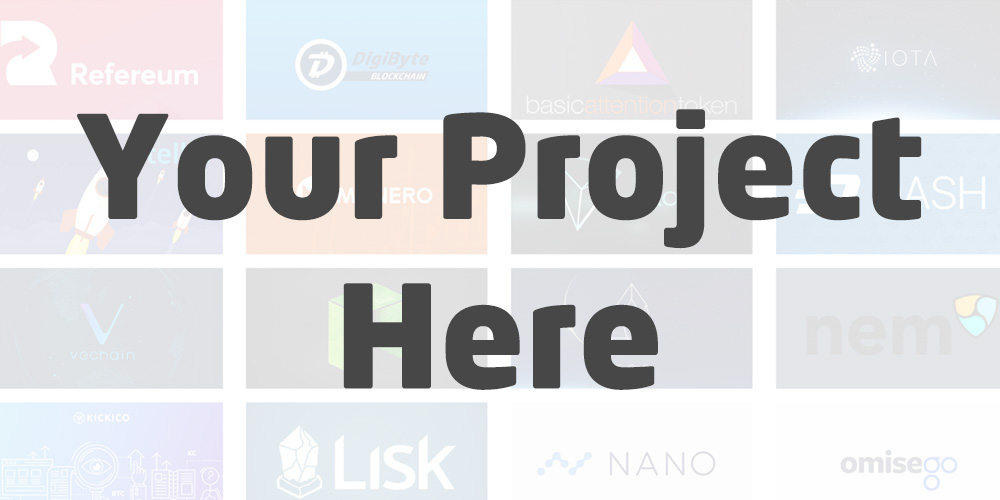 Numbered rankings are not an indication of project strength. All projects are ranked equally, despite listing position.
1 | Holochain (HOT)
A More Human Internet
Data provided by Coingecko.com
Holochains Github looking very active lately. Plenty of development required to pull their vision off, so far so good.

Holochain & Mozilla have been in preliminary talks. Speculation was rife for several weeks and the Holochain Team recently confirmed this in an AMA.

Recent Binance listing has seen HOT rocket up in value. Recent downtrends in the market haven't phased the price of HOT too much, one of the only alts to have suffered little compared to the majority.
Holochain enables a distributed web with user autonomy built directly into its architecture and protocols. Data is about remembering our lived and shared experiences. Distributing the storage and processing of that data can change how we coordinate and interact. With digital integration under user control, Holochain liberates our online lives from corporate control over our choices and information.

Hard to verify where Holochain are at in terms of Roadmap progress but Q3 2018 and Q4 2018 have some solid milestones planned. A Beta Release of Holochain is expected and the Team expect a Testnet version of Holo to be running on 30,000 host devices, surpassing both BTC and ETH by end of year.

Q4 2018 will see further milestones met. Peer-to-Peer applications on Holochain to reach 50 Apps and 10,000 users by end of year. Gmail, Gdoc and other collaboration tools are expected to be available as beta on Holochain

For more, view ICOBenchs Roadmap section (We struggled to find an official Roadmap on Holochains website.

2 | BitTube (TUBE)
Ad-Free. Always Monetized
Data provided by CoinRanking.com
BitTube recently announced that Pre-Registration for their Debit Card is now open, a huge step in allowing users of TUBE to store and spend their funds at will.


BitTube have just gotten their iOS Wallet approved by the Apple App Store. They're one of few to have a fully functional and secure wallet on the iOS platform. (Apple is not very "Crypto-friendly")

A new Pro membership is available for users who wish to take full advantage of the BitTube platform. 4K and 8K uploads, multi-bitrate streaming and "Channel Stay"/"Content Protections" are enabled.
BitTube is a fast-growing network designed to empower video creators and live streamers, entertaining far-reaching audiences through a seamless user experience — ad-free and always monetized. BitTube coin (TUBE) is a private cryptocurrency based on the CN Saber Proof-of-Work algorithm. A share of the blockchain block reward is reserved for the platform's revenue model called Airtime
September 2018 should see additonal sub-platforms as well as an AI-based copyright strike system implemented. New products: Channel Stay, Promote Channel. Release desktop apps (Windows, Mac, Linux).

October 2018 should see premium content providers jumping on board. Licensed TV channels and music providers are expected. Users will be able to purchase TUBE directly on the platform

3 | Enigma (ENG)
Making Decentralization Work
Data provided by CoinRanking.com
Not too recent but a few months ago Enigma partnered up with Intel to explore the opportunities that Enigmas solutions provide. Although this was confirmed a few months ago, this is big stuff.

Enigma announced a bunch of launch partners in their recent Medium Post. Ocean Protocol, Datawallet, Colendi, 2key, Eximchain, Datacoup, Rebloc and Portal Network will take advantage of the privacy solutions that Enigma provides.

Enigma is using groundbreaking privacy technologies to build the first platform for scalable, end-to-end decentralized applications. With Enigma, "smart contracts" become "secret contracts", where input data is kept hidden from nodes in the Enigma network that execute code. Without adding this ability to protect data, blockchains are very limited in utility. Enigma's technology is the missing piece to a decentralized future.
Q3 2018 had the Enigma Mainnet scheduled in. Although we are still waiting on the Mainnet to launch, we're only a week into Q4. Expecting an announcement in the following weeks.

Enigmas "Voyager" 2019 period will see a second major release focusing on even stronger privacy for Dapps, which will utilize a new Distributed VM that will allow Multi-party Computations. All of this allows for two types of Secret Contracts, TEEs and MPCs.

Once the Mainnet is launched, all Dapps will be moved to the Enigma network instead of relying on Ethereum, increasingly scalability by "orders of magnitude".

4 | Enjin Coin (ENJ)
Build Blockchain Based Games
Data provided by CoinRanking.com
The Enjin Wallet now supports Blockchain-Based Gaming Assets. ERC-721 & ERC-1155 tokens are supported by the worlds most secure game collectible wallet.

Enjin is sponsoring the Asia Drone Championships 2018 in Singapore. It's always great to see Cryptocurrencies branching out into industries/sectors that haven't been exposed to the technology, rather than conferences full of already avid Cryptocurrency enthusiasts.

Tech updates have been consistent, plenty for the tech savvy Investor to gush over.

Enjin offers a completely flexible, free platform for creating, integrating and scaling tokenized gaming assets. Enjin's modular platform enables you to explore endless use-cases for blockchain technology. Integrate blockchain in a matter of hours, without writing a single line of code – or go all in and create custom tokens & contracts from scratch.
Efinity will be Enjins upcoming Game-Channel Network which will enable highly scalable gaming microtransactions at high speeds with nearly zero costs, all verified by the Ethereum Blockchain.

2018 is obviously Enjins biggest year in terms of development and there is still plenty left to be done according to their Roadmap. EnjinX Blockchain Explorer is on the way. An iOS version of the Enjin Smart Wallet is expected very soon which will get Enjin into the ranks with other blockchain projects who have successfully convinced Apple to allow Cryptocurrency wallets onto their platform; not easy to pull off!

5 | Telcoin (TEL)
Financial Inclusion For A Mobile World
Data provided by CoinRanking.com
Telcoin was recently added to Changelly, allowing easy conversions between several other Cryptocurrencies. A huge step in improving TEL liquidity and increasing volume.

Telcoin has formally requested MAS (Monetary Authority of Singapore) review of their business for a money remitter license. They've also met with FINTRAC, the Canadian regulator for MSB (Money Service Businesses.


Telcoin has signed with a major African operator to start testing how financial inclusion can be increased through Blockchain. The partnership will explore solutions for a variety of use cases across Africa and beyond.
A cryptocurrency distributed by your mobile operator and accepted everywhere. Telcoin is focused on connecting with mobile networks globally, enabling easy conversion between telecom mobile money, prepaid credit and postpaid billing platforms.
Telcoin has submitted an application to the Securities & Exchange Commission in the Philippines. There is so much going on in the way of regulation and licensing which is exactly what a project like Telcoin requires to garner mass adoption.

In Q4 2018, Telcoin expects to support transfers between Telcoin and Mobile Money in at least 3 countries. More exchanges on the way. Carrier billing will be implemented with their first operator.


Telcoin expects to release their Telcoin Reference Wallet on the iOS App Store. If successful, they'll join the ranks with other Blockchain Companies that have managed to convince Apple to approve their apps. Cryptocurrencies and Apple aren't exactly a match made in heaven, so getting onto their App Store is a big accomplishment.