- Sponsored Position -
We Don't Run Ads, We Don't Sell Good Reviews - But We'll Sell You This Space?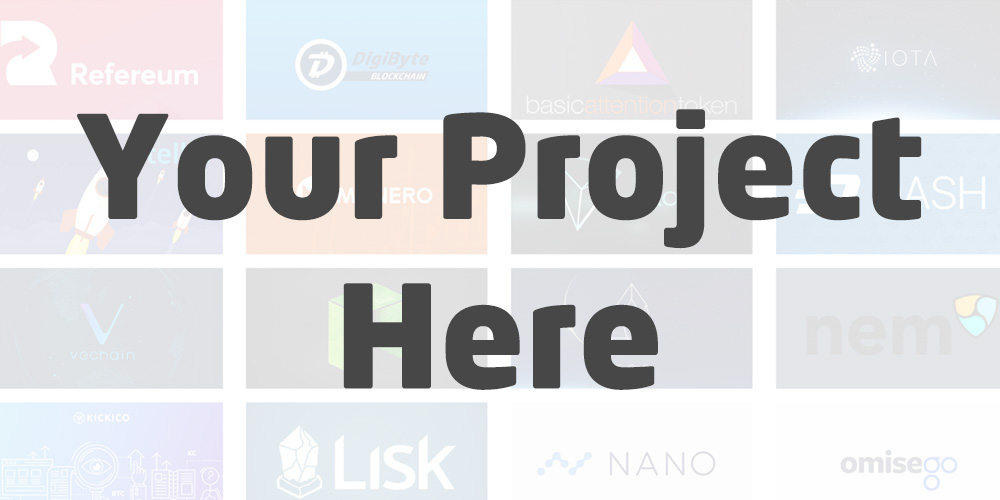 Numbered rankings are not an indication of project strength. All projects are ranked equally, despite listing position.
1 | Own (CHX)
The Global Equity Market is Outdated - Let's Start Again
Data provided by Coinmarketcap.com
We recently reviewed Own (CHX) and really had nothing but good to say about the project. From a fundamental point of view; Own has some serious potential. From an investors point of view; Own has defied Bitcoins price movements and discovered its own value with a well over 10x increase from its value back in October 2018. We're looking forward to seeing how the Own Market 2.0 Platform release effects the value of the CHX token when it's released.

Own recently detailed/launched their DPoS staking mechanism which will allow holders of the CHX token to contribute to the network and claim rewards, regardless of the amount they hold. We love projects that use this method of staking as it gives those who can't afford a huge investment the ability to contribute just as easily as someone who can. There will be 100 Validator Nodes, Unlimited Client Nodes and obviously the Official Wallet will help enable easy staking without the need to run any kind of nodes. Full release

Own is the platform to buy and sell shares — business owners can sell equity in their businesses to raise capital and investors can buy and sell shares from businesses. Like all good ideas, at its core the platform is really simple. Own allows business owners to sell equity in their business in return for capital from investors. Own can offer this service free of charge to both business owners and investors because they keep their processes simple and utilize blockchain technology

Like we mentioned in our "Recent Developments" section, DPoS staking is extremely exciting for anybody holding the CHX token. Obviously users will need to perform a Token Swap to the Own Blockchain and as of December 4th 2018, we're still waiting on details regarding any further action.

Taking a look at Owns Roadmap we can see that the 2.0 Platform Release is still scheduled for sometime in the second half of 2018. Given that we're well into December, expect an announcement or an update over the coming weeks.


More Exchanges are no doubt in the works. Given the price action we've seen from CHX over the past month or two it's pretty obvious that another major exchange listing would send the value of CHX up another 20, 30, maybe even 50%. We've seen a few projects benefit from major exchange listings lately as investors start to focus on strong projects that are making moves in a quiet market.
2 | Tomochain (TOMO)
Building An Efficient Blockchain Infrastructure
Data provided by CoinRanking.com
All eyes on on Tomochains Mainnet launch. They recently released a Medium Article detailing how the whole process will work, including preliminary information on how the ERC20 to TOMO token swap will occur. It looks like a pretty straight token freeze followed by the issuance of a new token. Nothing out the ordinary and definitely no hoops to jump through. Make sure to read the entire release if you hold any TOMO.
We recently got an update on Tomochains TomoX Decentralized Exchange and how that's all coming along. Estimates put the release of TomoX at somewhere in Q1 to Q2 2019. The exchange will be able to support thousands of transactions a second which is something we simply haven't seen in the Decentralized Exchange space yet.
For the tech savvy or for those who are interested in learning more about the PoSV mechanism that Tomochain will utilize along with what they call a "slashing" technique, they recently released a pretty informative article explaining it all. Considering PoSV allows all TOMO holders to participate in contributing to the network, it's worth reading. "Slashing" in simple terms will ensure the Tomochain network remains as optimized and stable as possible.
TomoChain is an innovative solution to scalability problem with the Ethereum blockchain, and other blockchain platforms. TomoChain features a 150-Masternodes architecture with Proof of Stake Voting (POSV) consensus for near-zero fee, and instant transaction confirmation. Security, stability and chain finality are guaranteed via novel techniques such as double validation, staking via smart-contracts and uniform randomization processes.
The Tomochain Mainnet launches on December 14th, 2018. This will be the biggest move Tomochain has made and one that will allow them to launch products like TomoX (Decentralized Exchange) moving into 2019, giving the TOMO token a lot more use-cases. Expect demand for the TOMO token to be extreme as these products roll out. 2019 will be absolutely huge for Tomochain.

Taking a look at Tomochains Roadmap, there's still so much to come over the next few months. Mainnet aside, we're likely to see TomoX launch somewhere between Q1 and Q2 2019, an ICO Template (self explanatory), A 2.0 Release of the Tomochain Mainnet with Sharding Enabled, Multi-chain interoperability and a Mobile Application called TomoMaster which will make Governance even easier.

3 | OriginTrail (TRAC)
Purpose-Built Protocol For Supply Chains
Data provided by CoinRanking.com
It's been a huge year for OriginTrail, in fact it's been a huge year for Supply Chain Projects altogether. We've seeing alliances built and partnerships made with very little in the way of direct "competition" between these projects, just progress! This past month OriginTrail has seen several co-operations/partnerships and has been right on track with their Roadmap winding up 2018.


The most notable partnership would have to be with Oracle. OriginTrail and Oracle have entered into a technology partnership that will result in an integration between the Oracle Blockchain Cloud Service and the OriginTrail network. Oracle is one of the software/services companies in the world and will no doubt benefit OriginTrail greatly in the future.

OriginTrail recently released an update regarding the upcoming Vostok Mainnet launch along with a few technical updates regarding things such as the Bidding Mechanism that will be utilized. They also released an update for the month of October which shows off what they've been up to and where things are at moving towards the end of 2018.
OriginTrail is the first purpose-built protocol for supply chain based on the blockchain. Trace (TRAC) is a utility token that enables data operations on the OriginTrail Decentralized Network. OriginTrail enables seamless and automatic data connection and interoperability between IT systems of different stakeholders in multi organisation supply chains with consensus mechanisms for ensuring integrity of data.
The launch of Vostok, OriginTrails Mainnet is scheduled in for December 7th 2018. This is a huge step for OriginTrail and one that investors have been patiently waiting on for a while now. We haven't seen many complains though seeing as progress has been incredibly consistent in regards to the OriginTrail Roadmap

The first Quarter of 2019 isn't too jam packed, most likely due to the Vostok Mainnet launching so late in 2018. It's not rare to see projects take a few weeks to make sure everything is behaving before moving onto other developments. We are talking about a Mainnet here.. Pretty important. We'll likely see the launch of the OriginTrail Decentralized Network in Q1 along with a Blockchain/Supply Chain Summit where more than 100 individuals, representing corporations, companies, research institutions, and other experts, will meet in Slovenia, EU to discuss and propose solutions to efficient use of blockchain in addressing supply chains challenges.



4 | SingularityNET (AGI)
The Global AI Network
Data provided by CoinRanking.com
We probably just need to get the obvious out of the way. Dr. Ben Goertzel (CEO of SingularityNET) was just featured on the Joe Rogan Experience Podcast. Regardless of the exposure this provided SingularityNET or the AGI token, you've got to appreciate the vision behind SingularityNET. We watched it and we recommend you do too.
SingularityNET recently partnered with the Chinese Neurotechnology Firm Entertech in an aim to create AI-powered neurotech for the consumer and the enterprise markets.

SingularityNETs Github has been on fire over the past few weeks. With plenty of updates including Aigents. Aigents implements algorithms and tools for online information collection and analysis on platforms, and allows users to retrieve and make sense of information from online media, social networks, and blockchains.
SingularityNET is a full-stack AI solution powered by a decentralized protocol. SingularityNET gathered the leading minds in machine learning and blockchain to democratize access to AI technology. Now anyone can take advantage of a global network of AI algorithms, services, and agents. SingularityNET is building a decentralized marketplace for AI services.
Taking a look at SingularityNETs Platform Roadmap, there are plenty of developments that are so close to coming out of Alpha and into Beta. Multi-Party Escrow, SingularityNETs Service Daemon and their DApp & AI Marketplace Betas aren't far away at all. Take a look at the Roadmap for yourself, it's incredibly detailed.


We're yet to do a review on SingularityNET because, well to be honest, it's pretty advanced and we simply haven't gotten the chance to get in-depth with the Whitepaper/Website. If you have any interest in AI technologies, you'll find what SingularityNET is doing to be very exciting, and that's coming from somebody who doesn't have a vested interest in AI Tech. Right now SingularityNET is, in our opinion, leading this particular sector.



5 | DragonChain (DRGN)
A New Era of Blockchain Technology
Data provided by CoinRanking.com
We recently reviewed Dragonchain and found it to be one of the best opportunities granted by the current market conditions when assessing the current value .vs. value at an all-time-high. They've been quietly making moves all throughout 2018 and have consistently fed their community update after update. Check out our review here.
Dragonchain were recently granted their Interchain Patent which will assist in solving security, utility, scalability, and flexibility issues that have stymied others in the blockchain industry. Interchain will allow Dragonchain to offer the services of various blockchains to their clients all through the Dragonchain platform. Interoperability will be huge moving into 2019 and Dragonchain has placed themselves up there with the competition, ready to take a bite of the market share. Full release.

Dragonchain recently posted a bit about Dragon Factor. We hadn't actually heard of Dragon Factor before this update so it was great to get some clarification on what it is and how it protects users and their data. Well worth the read. Dragon Factor is a blockchain-based identity and access solution that allows users to take control of their identity. Delivered as a service, built on top of the Dragonchain platform, Dragon Factor enables authentication, using public key encryption. Full release
Dragonchain provides a commercial platform for application developers to rapidly and securely deploy Blockchain applications while maintaining existing language development environments (e.g. Java, Python, Node, C#, Go); a tremendous costing and speed to market advantage​. The Dragonchain architecture is also designed to allow nodes to handle approval of transactions based upon five levels of network consensus to provide a spectrum of trust to data consumers; a level of security and flexibility unseen in the market by current blockchain solution providers.
Taking a look at Dragonchains Roadmap we can see a few updates on the horizon moving from December into 2019. With November being such a big month for the project, it's impressive to see releases still planned this late into the year. We should see Wyrm Holes released sometime in December 2018.


"Future Goals" include the release of the Dragonchain Incubator and Commericial Environments on Azure, Heroku and Google Cloud. Some big goals here. We're still waiting on an update to the Roadmap in regards to when we'll see these Future Goals scheduled for.