- Sponsored Position -
We Don't Run Ads, We Don't Sell Good Reviews - But We'll Sell You This Space?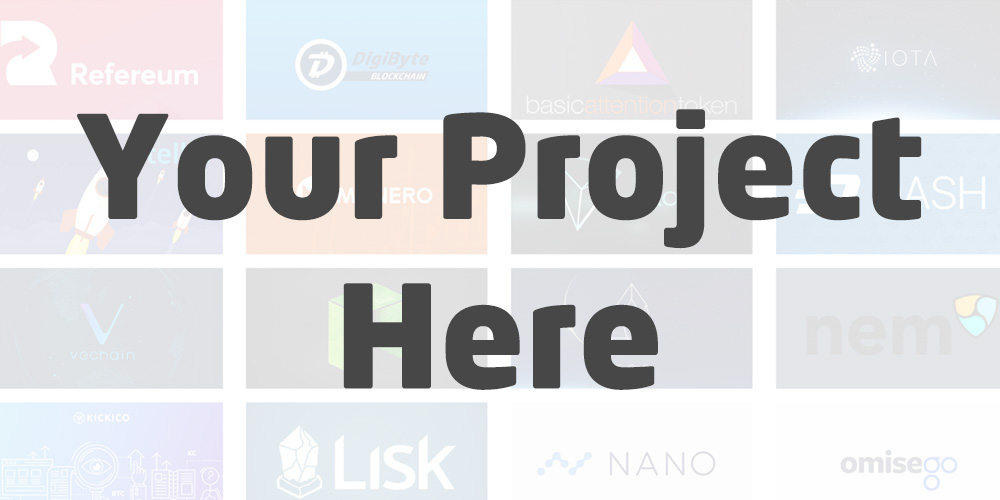 Numbered rankings are not an indication of project strength. All projects are ranked equally, despite listing position.
1 | Enigma (ENG)
Making Decentralization Work
Data provided by Coinranking.com
Enigma is one of those coins you look at and thing "how has it gotten so cheap". After reaching an all time high of around $8 during the January 2018 run, ENG has slowly come back down to around $0.65c which considering the fundamentals behind this project, is insane. At the time of writing, Enigma is starting to show signs that it's coming to the end of what most call the "accumulation zone" and we may start to see resistances tested on the way back up. For now, it's best to disregard the price. Any price around $1 is a steal according to most people and we'd tend to agree.

Enigma just launched their Enigma Growth Grants Program which will allow developers to apply for funding to build critical pieces of the Enigma network. Right now they're offering grants to those who are interested in developing a Blockchain Explorer and a UI Client for the Enigma.js Library. Great to see Enigma reaching out to the community for a hand in the development of such an exciting project.

We've been tuning into Enigmas "Decentralize This!" Podcast over the past few weeks and we can't recommend it enough. Check it out.
Enigma is using groundbreaking privacy technologies to build the first platform for scalable, end-to-end decentralized applications. With Enigma, "smart contracts" become "secret contracts", where input data is kept hidden from nodes in the Enigma network that execute code. Without adding this ability to protect data, blockchains are very limited in utility. Enigma's technology is the missing piece to a decentralized future.

Q3 2018 had the Enigma Mainnet scheduled in. Although we are still waiting on the Mainnet to launch, we're only a month into Q4. Expecting an announcement in the following weeks. Enigma did announce that there would be some delay here, so keep an eye out on their Blog
Enigmas "Voyager" 2019 period will see a second major release focusing on even stronger privacy for Dapps, which will utilize a new Distributed VM that will allow Multi-party Computations. All of this allows for two types of Secret Contracts, TEEs and MPCs.

Once the Mainnet is launched, all Dapps will be moved to the Enigma network instead of relying on Ethereum, increasingly scalability by "orders of magnitude".

2 | Stellite (XTL)
A Decentralized, Private, Community Focused Currency
Data provided by CoinRanking.com
Stellite has really come out of the dark over the past few weeks. With a humble $1m Market Cap in Mid-September, we've seen a very organic and steady rise over the past few weeks up until Late October when the Market Cap of XTL stood at around $6.5m. The past 2 or so weeks have seen a healthy retracement for XTL and we'll no doubt see another run up when a support is established. At the time of writing, XTL seems to have settled down with a $3.5m Market Cap and we can't see it going much lower simply due to the increased awareness around this project. There are more investors in XTL than ever before at this point. Still plenty of upside potential.

Stellite has been progressing nicely from a fundamental standpoint. StellitePay looks like it's coming along at good pace and Mobile Mining doesn't seem too far away. We feel like a full release of either of these applications would easily usher in even more interest from investors. We reviewed Stellite a few weeks ago and we're excited to update that review as Stellite progresses. A great couple of months for XTL. Check out their Monthly Progress Update for October
Stellite is unique in linking both the IPFS and ZeroNet technologies into a cryptocurrency and scaling it globally for both mobile and desktop usage. Stellite will be the first cryptocurrency worldwide to provide scalable global mobile mining. Stellite solves issues that have been puzzling cryptocurrency developers for years on topics such as an efficient and decentralized method of distributing peer list without hard coding them, using the billions of small devices to combine their computing power and form a part of a huge Proof-of-work network which helps people use their own small devices to be not only a supporting factor to the network but also be provisioned a small reward in doing so.
This section will be pretty straight forward for Stellite. We mainly included XTL in this weeks Top 5 due to it's incredible performance recently and it showing not much sign of slowing down.

We don't have a detailed Roadmap for Stellite but we can expect a few things in the next few months. StellitePay testing is expected to continue as well as applications for Mobile Mining. A Mobile Wallet, New Website, Exchange Listings and a Design Rebrand is in the works. We're looking forward to getting an update to this Roadmap, detailing the Teams plans for 2019.
3 | Enjin (ENJ)
The Most Efficient Platform for The Token Economy
Data provided by CoinRanking.com
Enjin is moving forward at full speed. Several announcements and releases over the past few weeks. The Team released their Q3 Quarterly Report which details what accomplished last quarter and what they're focusing in on this quarter. Enjins Mintoshop is now open for business. Mintoshop is Enjins on-demand ERC01155 Minting Service which allows anyone to easily create their own blockchain assets. The Mintshop represents an incredible step forward for not only Enjin but the whole ERC20 token standard. They're doing things with Ethereum that most wouldn't even consider possible. 2019 will be a huge year for Enjin, no doubt.
Enjin expanded into Korea. "By joining forces with the Korea Mobile Game Association & Korea Blockchain Contents Association, Enjin aims to foster its presence in South Korea and boost the country's blockchain game industry." (Full Article). We all know how important Video Games are in the entertainment industry in Korea, just take a look at how they treat E-Sports. Big moves!
Enjin offers a completely flexible, free platform for creating, integrating and scaling tokenized gaming assets. Enjin's modular platform enables you to explore endless use-cases for blockchain technology. Integrate blockchain in a matter of hours, without writing a single line of code – or go all in and create custom tokens & contracts from scratch.
Efinity will be Enjins upcoming Game-Channel Network which will enable highly scalable gaming microtransactions at high speeds with nearly zero costs, all verified by the Ethereum Blockchain.

2018 is obviously Enjins biggest year in terms of development and there is still plenty left to be done according to their Roadmap. An EnjinX Blockchain Explorer is on the way, their Mintshop just opened up which is one of their most marked achievements this year, and so much more. We've been following Enjin for just over a year now and they've delivered time and time again. Full speed ahead!

4 | Dero (DERO)
The Worlds Fastest Anonymous Blockchain
Data provided by CoinRanking.com
Dero was relatively unheard of to most investors up until late September where it saw a meteoric rise considering the state of the market at the time of writing. Moving from a $1m Market Cap to a $13m Market Cap at it's peak, DERO went from being worth around $0.30 to a top of $2.40 and rightfully so. We reviewed Dero and found it to be an incredibly promising project and one that will shake up a lot of higher valued competitors in the space. At the time of writing, DERO has come back down to Earth and seems to have found some kind of support around the $1.80 mark. You could expect it to come down a little further but the horse is out of the gates now and it's highly unlikely you'll see it below the $1 again unless the market as a whole takes a huge dump.
Dero have been pretty solid in their Marketing efforts. They've garnered a ton of attention and the Team has really taken advantage of it and helped keep the momentum going. In terms of very recent developments, there's a few, but one in particular that caught our eye was the new in-browser wallet. When we tested out the Dero wallet it was a breeze to use but there is absolutely a set of people who aren't fond of Wallet downloads and would rather the portability of an in-browser wallet. Here they can enter their Seed Words, Recovery Keys or Wallet Files to access their funds on the go from a safe device, a big step for improving accessibility.

Dero is the first crypto project to combine a Proof of Work blockchain with a DAG block structure and wholly anonymous transactions. The fully distributed ledger processes transactions with a twelve-second average block time and is secure against majority hashrate attacks. Dero will be the first CryptoNote blockchain to have smart contracts on its native chain without any extra layers or secondary blockchains.
Plenty of exciting developments expected over the next few quarters. Smart Contracts are where Dero will really shine, at least we think so! Q4 2018 should see DERO Smart Contracts on the TestNet, more Partnerships, Enhancements, Marketing efforts, etc. Seeing the run DERO has had over the past few weeks, we can only imagine how it will perform when Smart Contracts start to come into the picture.

Smart Contracts are expected to his the MainNet sometime before 2019 although there is no hard date set on this. Obviously being such a big step forward for the project, they'll be wanting to get it right the first time, rather than setting a hard date and rushing to please investors. We haven't gotten an update to the Roadmap in a while but no doubt the Team will reveal their plans for 2019 in the next few weeks.
5 | Republic Protocol (REN)
A Decentralized Dark Pool Exchange Protocol
Data provided by CoinRanking.com
It's pretty safe to say that Republic Protocl (REN) has gone under the radar for most of 2018. It's one of those projects that doesn't get a whole lot of hype, doesn't spend thousands in marketing and looks to be solely focused on developing their platform for the time being. REN has seen some very organic growth over the past few weeks and for good reason, everybody wants one of those DarkNodes! We haven't review Republic Protocol but we've got to say there's some serious potential here. People who take the time out to research REN will be in a great position to make a profitable decision.

In Late September, Republic Protocol announced that they had moved into the Beta phase of their Mainnet. Since then, we've seen some real utility behind the REN token which is no doubt the catalyst for the organic growth we've seen lately. 

We've included REN in our Top 5 this week mainly due to the fact it's a pretty good definition of the overused term "Sleeping Giant". There is some serious potential here and we'll no doubt see a good dose of FOMO hit the market for REN once marketing becomes a priority down the line. Just take a look at the demand for private, decentralized, large volume transactions and you'll see why REN is so exciting.
Republic Protocol is a decentralized network that utilizes secure multi-party computation (sMPC) to match orders without exposing the price, or volume, of the orders. Dark pool exchanges powered by Republic Protocol support large volume trades, with minimal price slippage and market impact, whilst guaranteeing the rules of the dark pool cannot be broken.
Taking a look at Republic Protocols Whitepaper, we can see that the current Roadmap is still active and has a few milestones to come. The release of the Republic Protocol Mainnet is obviously a big one and we saw the Mainnet Beta released right at the end of Q3. In Q4 (and onward) we can expect to see support for more chains including Litecoin, Implementation of scaling solutions for atomic swaps including Lightning Network/Raiden and support for High Frequency Trading and Institutional Trading. Very exciting!

As we get closer to the end of 2018, a lot of projects are in need of a Roadmap update. Hopefully the Team has a detailed release/milestone schedule ready for release over the next few weeks. For now, check out their Whitepaper.