An Innovative Crosschain Protocol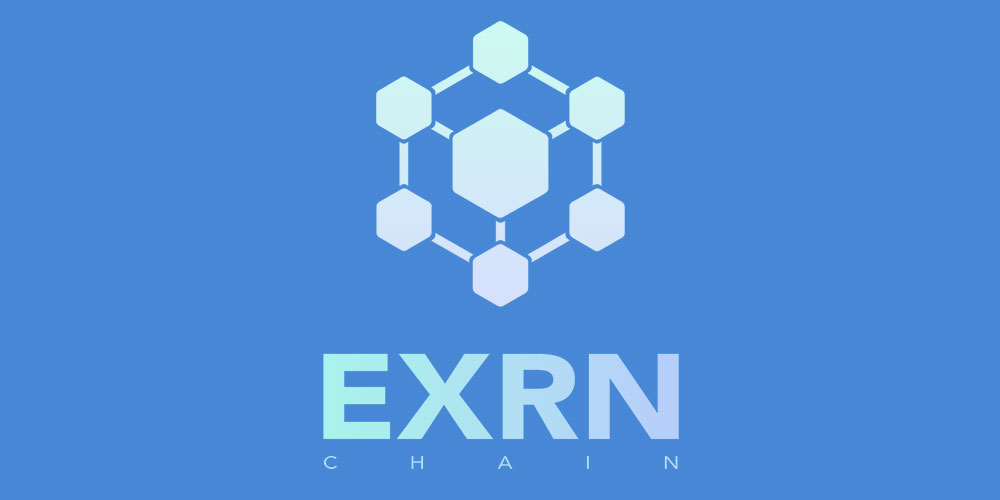 EXRNchain is a protocol and network for crosschain value and data transfer between distributed ledgers (blockchains).
EXRN – Token that is providing liquidity for atomic swaps and crosschain transactions; meaning that any crosschain transfer will have to go through EXRN, so EXRN should be always appreciating in value.
EXRT – Each crosschain transfer automatically buys a small amount of EXRT as a fee (which is the main use case of it). EXRT mainnet will be a sidechain of Ethereum. It is going to be a sidechain built exclusively for EXRNchain network. EXRT tokens will be swapped for EXRT mainnet coins when the distribution ends.
Atomic Swaps – EXRNchain protocol allows better, faster, simpler atomic swaps between different cryptocurrencies. We will implement it in our EXRNswaps service.
Data Transfer – EXRNchain protocol can be used to transfer any encrypted data between distributed ledgers (which brings many use cases in connection with IPFS technology)
Crosschain Payments – Merchants don't need to create and manage dozens of cryptocurrency wallets, they can accept one, while offering 100s of payment options for clients.
"EXRN development started summer 2017 as a protocol to bridge Ethereum and Ripple, but was expanded later to connect any blockchain and any cryptocurrency. We announced our airdrop in October 2017 and distributed 70 billion EXRN (70%) for free."
EXRNchain Is Entering the Space of Blockchain Interoperability. When You Look at Just How Many Blockchains There Are Such as NEO, Qtum, ETH, Etc, It Makes Sense That Connecting All of These Chains Is Essential for Adoption. Being Able to Seamlessly Execute Contracts, Transfer Information and Perform Atomic Swaps All in the One Place Makes Things Super Easy for the End User.

EXRNpay Will Enable Merchants to Accept Most Cryptocurrencies and Have Them Convert into the Cryptocurrency They Want. Like Traditional Payment Methods, Different Currencies Can Be Accepted and the Merchant Is Not Inconvenienced by the Vast Amount of Currencies They Are Accepting. If They Want ETH for Their Services/Products, They Can Accept a Bunch of Different Cryptocurrencies and Have Them Convert Through the EXRNchain Platform.

EXRNchain Will Enable a Second Token – EXRT. EXRN Will Be Used to Facilitate Crosschain Transactions, Execute Swaps and Provide Liquidity to Each Transfer While EXRT Will Be Used to Pay Fees for Cross-chain Transfers and to Secure Crosschain Network with Nodes. An Interesting Token Model and One That We Are Excited to See Function Once the Mainnet Is Live.

EXRNchain Did Not Have an ICO or Token Sale. The Team Announced an Airdrop in October 2017 and Distributed 70 Billion EXRN (70% Of The Total Supply) for Free. We Have Our Concerns about the Ability of the Team and the Progress of the Platform but Considering the Team Didn't Raise a Huge Amount of Money like Other Projects in This Space, It's Clear That the Team Are Dedicated to the Vision They've Created, Rather Than Being Motivated By ICO Funds.

Competitors Are Going to Find It Hard to Compete Quickly. EXRNchain Is Creating a Platform That Is Not Easily Copied Due to the Extent of the Features They Are Developing. We Do Have Our Concerns about the Development Progress of the Project, but on a Conceptual Level, the Platform Is Pretty Advanced.
Our Biggest Concern with EXRNchain Is the Lack of a Whitepaper. The Team States "Whitepaper Will Be out at Some Point When Our Code Is Open, but Not in the Nearest Future, since Development Is Private." We Don't Quite Understand Why a Whitepaper Is Held Back by Private Development. Several Projects We've Reviewed That Are Still in Their Infancy Are Developing Their Projects Privately, but Still Offer Extensive Whitepapers. Investors Need to Keep an Eye on This. We Aren't Experts In Blockchain Development, So We May Be Clueless Here.

As Previously Mentioned, Development Is Currently Private. EXRNchain Does Not Have a Public Github Available. At the Time of Writing (May 30th, 2018), Investors Have No Whitepaper and No Way of Tracking Development Progress. Considering the EXRNchain Website Shows Only 3 Team Members, the Development Side of Things Is a Big Concern for Us. The Roadmap Shows past Milestones and Future Milestones, but with No Way of Tracking Development, We Just Aren't Sure on the Progress of the Platform. The Team Is Definitely Dedicated, Though.

From What We Can See on the EXRNchain Website, the Team Doesn't Have Any Advisors or Supporters/Partnerships. We Understand That the Project May Be Young in Terms of Development, but Right Now the Team Doesn't Have an Extensive Background, There Aren't Any Advisors Guiding the Team and We Haven't Seen Any Networking/Partnerships as of Yet. This Will No Doubt Improve/Change In The Future.

• Ticker: EXRN
• Total Supply: 100,000,000,000
• Circulating Supply: 92,500,000,000
• Token Use: Services & Fees

• CrossChain Payments
• Blockchain Interoperability
• Competitors – Various