- Sponsored Position -
We Don't Run Ads, We Don't Sell Good Reviews - But We'll Sell You This Space?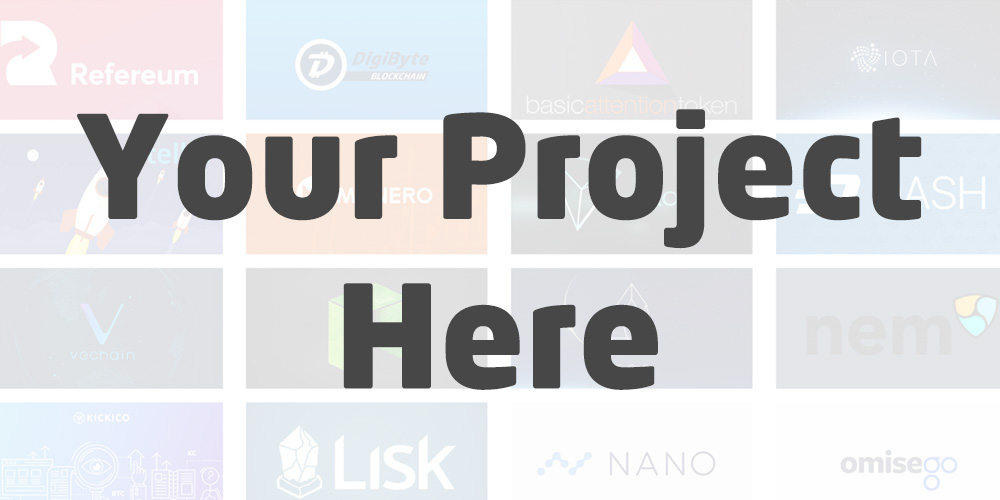 Numbered rankings are not an indication of project strength. All projects are ranked equally, despite listing position.
1 | Dadi (DADI)
Decentralized Web Services
Data provided by CoinRanking.com
Dadi recently pushed their API 4.2.0 Update which is remarkable considering Version 4.0 released not even a month ago

Developments have been consistent. Github activity is extremely active


Price movement has been positive. Fundamentals are all there but price action is taking some time to pick up.
DADI is a global, decentralized cloud platform, focused on the provision of web services to help you build, scale and grow your digital products. DADI's web services are organized around a microservices architecture that provides a series of intelligent apps for building digital products.

Founding Nodes are due to be dispatched and onboarded after lottery is drawn.

Onboarding is in the works. See Dadi's Roadmap here

Dadi's "Store" app is due to be released in Q3. Dadi has been spot on with roadmap milestones so expect a release in the next month.

2 | TaTaTu (TTU)
Watch Entertainment And Get Rewarded
Data provided by CoinRanking.com
TaTaTu has seen massive increase in value over the past week. Fundamentals are strong here and the market is responding accordingly.

Plenty of social media attention lately. People are seeing the similarities to centralized solutions and are excited about the decentralized aspects of the project.

TaTaTu is the only platform that rewards users for watching premium content and shares advertising revenue in a way that is fair and transparent.
Smart contract integration arrives, along with simple social experience of posting content – commenting and sharing. Due November 2018 according to their roadmap.

TaTaTu is holding the biggest crypto giveaway ever with $50m being gifted to new users (Post)

3 | Nano (NANO)
Digital Currency for the Real World
Data provided by CoinRanking.com
Several Wallets have been released over the past few months, making Nano one of the most accessible and easy to use currencies in the space right now.

The price of NANO has seen some nice recovery over the past week after being smashed down from its ATH due to a continued bear market.

Social Media sentiment is becoming more and more positive. Less "Nano is dead" quotes floating around Twitter/Reddit

Launched in 2015 by Colin LeMahieu as RaiBlocks, Nano is a low-latency payment platform that requires minimal resources; making Nano ideal for peer-to-peer transactions
Point-of-Sale Plug/Play systems have entered Alpha testing. POS is a huge part of adoption.

Nano Name Services are in the works which will enable easier peer-to-peer transactions.

Speculative, but Nano could continue to see value increases as investor sentiment improves.

4 | Kin (KIN)
A Decentralized Economy
Data provided by CoinRanking.com
Kin recently released their iOS version of already popular Android app, Kinnit. A huge step for cryptocurrencies, especially on the Apple store.

40+ Developers have been announced and are integrating KIN into their applications.

Kin has seen just over 180,000 new users join the economy over the past 45 days. Incredible.

Related to the word "kinship" and conveying a feeling of being connected to community, the Kin cryptocurrency is designed specifically to bring people together in a new shared economy and will serve as the foundation for a decentralized ecosystem of digital services.
40+ Applications are expected to integrate KIN over the next few months.

iOS and Android version of Kinnit are still exclusive to US Residents, no word on a worldwide release yet but it's inevitable.

Ted (Kin Founder) hosts AMA's regularly where the community can ask questions about upcoming developments. Price action usually responds to these AMA's in a positive way.

5 | Tezos (XTZ)
Formalizing Blockchain Governance
Data provided by CoinRanking.com
Tezos recently released their BetaNet


Despite harsh market conditions, Tezos is holding up in terms of ICO ROI.
Tezos is a blockchain that can evolve by upgrading itself. Stakeholders vote on amendments to the protocol, including amendments to the voting procedure itself, to reach social consensus on proposals. Tezos supports smart contracts and offers a platform to build decentralized applications.
Tezos' GitLab is very consistent when regarding updates. Expect more major releases such as a MainNet release sometime in Q3.


Tezos is still very young in terms of developer utilization. ROI potential is still high despite the rather large market cap.