- Sponsored Position -
We Don't Run Ads, We Don't Sell Good Reviews - But We'll Sell You This Space?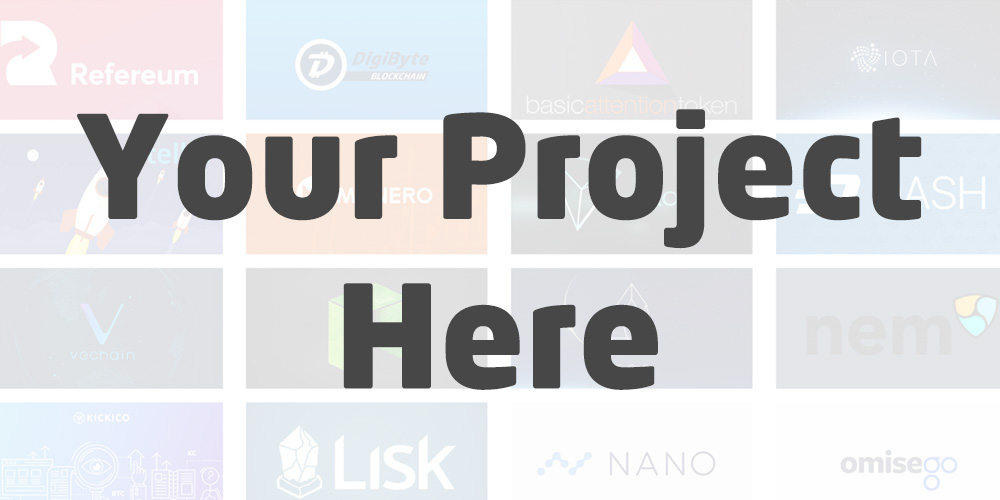 Numbered rankings are not an indication of project strength. All projects are ranked equally, despite listing position.
1 | FunFair (FUN)
Blockchain Solutions for Gaming
Data provided by Coingecko.com
FunFair recently concluded their first phase of Mainnet Beta Testing. Over 232,000 rounds of betting were made over 4,400 sessions played by community testers. 

FunFair recently launched their KYC app – FunPass. FunPass will allow users to verify their identity which will be store on a private FunFair server for regulatory purposes. Users using FunPass will be able to hop between Casinos and bring their balance over with them. FunPass is available for users in a closed beta.

CasinoFair will be the first FunFair powered Casino. It's available in Canada, Switzerland, Finland, Norway and Thailand for now but expansions are obviously in the plans. Ten original FunFair produced games will be available to play upon launch in the next few weeks.
FunFair provides blockchain-powered solutions with the potential to profoundly change the online gaming industry for both the operator and player. Using the latest Ethereum technology, we deliver low cost, high quality, transparent casino experiences that are provably fair. Using a powerful combination of peer-to-peer networking and cryptography, FunFair's advanced blockchain-powered casino platform is the first to deliver secure and fair games for players with easier set-up and much lower cost, helping to create and empower a new breed of operators.

FunFair doesn't have an extensive Roadmap in regards to future plans. Q4 will see more 3rd party games go live on the platform while Funfair continue to build their brand.


Expect full releases of a lot of FunFairs projects in the next few weeks/months. They've been through a lot of Alpha/Beta testing throughout 2017 and 2018. 2019 will no doubt be an incredible year for FunFair.



2 | Chainlink (LINK)
Connecting Smart Contracts
Data provided by CoinRanking.com
Chainlink recently partnered with GameDex to make its sport match result data available to other decentralized game developers. GameDex is a Steam-like platform for blockchain-powered digital collectible cards and card games.

Other recent partnerships include OpenLaw, Accord Project and Market Protocol. Chainlink looks to be finally making some moves in the marketing/networking space.

Chainlink has been doing quite well this week in terms of price action. Up 51% over a 7 day period and up just over 33% over a 30 day period. Despite recent dips in the overall market, LINK has held up decently.
Chainlink's decentralized oracle network provides the same security guarantees as smart contracts themselves. By allowing multiple Chainlinks to evaluate the same data before it becomes a trigger, Chainlink eliminates any one point of failure, and maintain the overall value of a smart contract that is highly secure, reliable, and trustworthy.
Chainlink haven't provided a detailed Roadmap, so it's hard to take a look at what to expect over the next few months. You can follow their PivotalTracker or Github to get an idea of what they're doing behind the scenes. Maybe on day Chainlink will release a proper Roadmap. We can hope!

3 | QuarkChain (QKC)
A High-Capacity Peer-to-Peer Transactional System
Data provided by CoinRanking.com
QuarkChain recently announced that they've gone Open Source. Developers can no contribute tot he development of QuarkChain in a free and open manner. Great to see an infrastructure project go from a centralized group of developers to potentially hundreds/thousands of eager developers around the world.


QuarkChain and NH Investment & Securities have signed a MOU for the development of a digital asset management service based on the Quarkchain platform. NH I&S is managing around $220 Billion USD in assets for their clients.
QuarkChain is a high-throughput blockchain that aims to achieve millions of transactions per second (TPS). The high-capacity system will solve the scalability problem that current main blockchains are facing. QuarkChain welcomes various DApps, especially those demand high transaction rates: advertisement, IOT ( internet of things) , AI and big data, game, peer to peer sharing economy, etc. Today, lots of dApps are waiting for a more reliable and scale foundation to begin with, QuarkChain will become a perfect choice.
Q4 2018 will see QuarkChain Core 1.0 released along with their Mainnet and SmartWallet. Q2 2019 will see QuarkChain Core upgraded to version 2.0 and along with that, further upgrades will be made to the SmartWallet. We are waiting on a more detailed 2019 Roadmap from the Team as 2018 comes to a close.

Dapps are obviously one of the most exciting parts of an infrastructure project such as QuarkChain. Once the Mainnet is released in the coming weeks/months we can expect to see Decentralized Applications start to take advantage of the extreme speeds that the platform provides. Watch this space.

QuarkChain is still relatively new to the market. QKC still has plenty of room to spread onto more exchanges and grow organically as Decentralized Apps utilize the token. A long term hold would be a good idea.

4 | RavenCoin (RVN)
A Digital Peer-To-Peer Network
Data provided by CoinRanking.com
RavenCoin is the best representation of an open-source, decentralized, developer focused project that you'll find. Due to this decentralized development, the milestones made by the Team are often kept quiet. Humble would be the word. The reason we've listed them in this weeks Top 5 is simply because we believe this project deserves more exposure. With so many projects spending thousands on Marketing efforts just to make sure their Investors are kept happy, RavenCoin continues to develop behind the scenes with no need to create unnecessary hype.

RavenCoin recently released their Version 2.0.4 Wallet binaries through Github

Bittrex recently listed RavenCoin (RVN). This will no doubt help improve trading volume and liquidity.
Ravencoin is a digital peer to peer network that aims to implement a use case specific blockchain, designed to efficiently handle one specific function: the transfer of assets from one party to another. Built on a fork of the Bitcoin code, Ravencoin was launched January 3rd, 2018, and is a truly open source project (no ICO or masternodes). It focuses on building a useful technology, with a strong and growing community.
Assets on the RavenCoin platform are in the works. Ravencoin will be a hard fork that extends Raven to include the ability to issue and transfer assets. Asset transfers will require the standard RVN transaction fees for transfer from one address to another.


Reward capabilities will be added to allow payment (in RVN) to all holders of an asset. Payments of RVN would be distributed to all asset holders pro-rata. This is useful for paying dividends, dividing payments, or rewarding a group of token holders.
5 | Tezos (XTZ)
Formalizing Blockchain Governance
Data provided by CoinRanking.com
The Tezos Mainnet is now live. Tezos released their Mainnet on September 17th with great success. Investors have been waiting for this for quite some time and the positive price action that followed showed this.

The President of the Tezos Foundation, Ryan Jesperson, recently shared his thoughts on how the last six months has been for Tezos. While we don't have any other recent events to report on, this article may provide some more insight into the past few months.

Tezos is a blockchain that can evolve by upgrading itself. Stakeholders vote on amendments to the protocol, including amendments to the voting procedure itself, to reach social consensus on proposals. Tezos supports smart contracts and offers a platform to build decentralized applications.
With the recent release on the Mainnet, we don't expect any huge news to come out from Tezos in the near future. All eyes will be on developers as they gain access to the network and figure out how/if they can use the Tezos blockchain to their benefit. We weren't able to find a detailed Roadmap regarding future developments but it's safe to say the Team will be pretty busy onboarding and helping developers over the next few months as the project grows and matures.


Although Tezos XTZ is ranked #17 in Market Cap at the time of writing (Sept 2018), the token isn't listed on a lot of exchanges. XTZ still has a lot of room to spread out onto various exchanges. We usually see Exchanges take longer to list projects that aren't ERC20 tokens, configuration obviously takes a bit longer. Give this a few months.