- Sponsored Position -
We Don't Run Ads, We Don't Sell Good Reviews - But We'll Sell You This Space?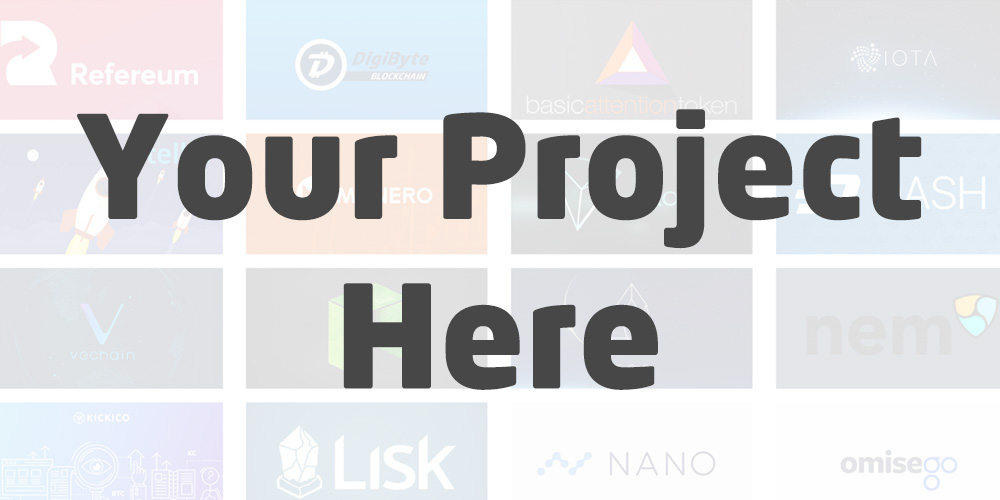 Numbered rankings are not an indication of project strength. All projects are ranked equally, despite listing position.
1 | Holochain (HOT)
Scalable Distributed Computing
Data provided by Coinranking.com
Holochain continues to be a crowd favorite. We've seen Holochain gradually increase in price since around July, shortly after we had a nice run in April/May. With exchange listings popping up over the past few months, Holochain is getting plenty of exposure, especially now that it's in the Top 100. Considering the applications that Holochain can serve, this is no doubt just the beginning of some new price discovery for HOT.

Holochain & Mozilla have been in preliminary talks. Speculation was rife for several weeks and the Holochain Team recently confirmed this in an AMA.


Being one of the safer Altcoins to be in over the past few months, we're starting to see less volatility which is partly due to an incredible amount of volume being passed through HOT. If you're looking for a long term hold with reasonably low risk, Holochain may be a great place to look. 
Holochain enables a distributed web with user autonomy built directly into its architecture and protocols. Data is about remembering our lived and shared experiences. Distributing the storage and processing of that data can change how we coordinate and interact. With digital integration under user control, Holochain liberates our online lives from corporate control over our choices and information.

Hard to verify where Holochain are at in terms of Roadmap progress but Q4 2018 has some solid milestones planned. A Beta Release of Holochain is expected and the Team expect a Testnet version of Holo to be running on 30,000 host devices, surpassing both BTC and ETH by end of year.

Q4 2018 will see further milestones met. Peer-to-Peer applications on Holochain to reach 50 Apps and 10,000 users by end of year. Gmail, Gdoc and other collaboration tools are expected to be available as beta on Holochain

For more, view ICOBenchs Roadmap section (We struggled to find an official Roadmap on Holochains website.

2 | Pundi-X (NPXS)
Buy, Sell, Accept Cryptocurrency
Data provided by CoinRanking.com
Despite recently announcing their Blockchain phone and performing numerous world firsts in the crypto space, NPXS has barely moved in price lately. If you take a look back at what even minor news would do to the price of a coin back in late 2017, this kind of news would have sent the price of NPXS soaring. Take some time to look into what they've been doing over the past few months and disregard the price of the token for the time being. Hell, if you've got some ETH sitting around, buy more! There is a lag between extraordinary news and a response from the market which provides a great opportunity for those who are keeping up with the news. NPXS under 1 Cent is a steal.

Keep up to date with Pundi-X's blog, it's always kept up to date. Their investor communication is A+

Considering the industry Pundi-X is working in, once Pundi-X onboards their XPOS units and businesses start using these at their full functionality, the sky is the limit as far as we can see.
Pundi X is empowering blockchain developers and token holders to sell cryptocurrency and services at any physical store in the world. Making cryptocurrency accessible to everyone. Pundi XPOS not only facilitates cryptocurrency payment or transactions but also accepts transactions through mobile wallets and bank cards. Our POS solution can support retail intelligence, inventory management, order management, marketing and loyalty programs. Pundi XPOS device is an all-in-one solution for retailers.
As of August 1st, 2018, Pundi X started shipping 5,000 of their XPOS machines out to the UK, Switzerland, Brazil, Korea, Hong Kong, Singapore and Indonesia. It's only a matterof time before the recipients are successfully onboarded and another 5,000 XPOS units are up and running. Pay close attention to Pundi X's movements in South America, they've just expanded and are already making great progress in that area.

From what we can see, 50,000 XPOS units up and running by Q1 2019 is not an overestimation, the Team has been making some serious progress this past month. Q4 2018 should see 3rd party apps start to launch on existing XPOS units and 20,000 XPOS units should be delivered.

3 | Kin (KIN)
A Decentralized Ecosystem
Data provided by CoinRanking.com
If you're after a coin under 1 Cent, KIN is an obvious choice. Right now you pick up millions of KIN with a relatively small investment. Although you need to keep Supply & Market Cap in mind, the potential upside considering the potential applications of Kin is huge. Currently sitting at $0.000059 USD (October 2018), KIN still has a way to go until it cracks the 1 cent mark but at the rate they're moving along, we'll no doubt see that figure in the future. It's a long term hold!


We've seen Kin continue a downtrend despite other Altcoins picking up or stabilizing in terms of price. Unfortunately due to a lack of exchanges and therefore lack of liquidity, we're constantly seeing big dips in price when a "whale" decides they've had enough and puts their large amounts of Kin on these very small exchanges. KIN will eventually see large exchanges but the Team has said right from the start that they aren't interested in listing KIN just to see price action.
Related to the word "kinship" and conveying a feeling of being connected to community, the Kin cryptocurrency is designed specifically to bring people together in a new shared economy and will serve as the foundation for a decentralized ecosystem of digital services.
"Demo Day" as the community is calling it was the day that the 40+ developers involved in the Kin Developer Program provided a Demo of their integrations with KIN. 32 Apps were given the greenlight or asked to make small revisions before they go live. Apps have until the 14th of November to get their integrations live inside their new or already existing apps on an App store. 84% of developers are launching on the Google Play Store first whereas 16% are planning on launching on iOS to begin with. The Google Play Store has a history of being pretty crypto-friendly so this does make sense.

We can expect to see continued, organic growth from Kin as it spreads out into the hands of people who aren't necessarily familiar with Cryptocurrency. The more Earn, and more importantly, Spend opportunities that are available, the better!



4 | TheKey (TKY)
Unlock The Future
Data provided by CoinRanking.com
After a pretty continuous downtrend, we've seen TKY start to recover in price. TheKey is one of those projects that despite having some of the best fundamentals in the game, never quite sees a translation into token price. We know about their government connections, we know all about the potential audience that TheKey has and we already know that they've tested and trialed their solutions. What we haven't seen is the TKY token reflect these accomplishments. Once we see a turnaround from this Bear market we'll hopefully see TKY start to move up at a significant pace.

"TheKey's first-generation IDV solution is currently in use for mobile social insurance pay in three pilot cities, which people can receive their payment for their pension, or healthcare insurance reimbursement. The IDV solution is currently being deployed in another 41 cities, covering more than 130 million people". If that doesn't get you excited about TKY, not much else will!

We'll no doubt see TKY back over that $0.01 mark at some point. The token is currently trading at around $0.005 and had an ICO price of $0.035 so if we do start to see a move upwards we've got some huge price discovery potential in front of us.
THEKEY Project Team is developing an identification verification (IDV) tool with blockchain based dynamic multi-dimension identification (BDMI) by using Personally Identifiable Information (PII) which is exclusively authorized by government authorities. THEKEY is a Decentralized Ecosystem of Identity Verification Tool Using National Big-data and Blockchain.
According to TheKeys website, they're planning on launching the BDMI (blockchain based dynamic multi-dimension identification) Mainnet in December of 2018. We don't have a whole lot more information than that but it's safe to say this will be one of their biggest milestones to date.


We honestly don't have too much more to look forward to until we get a Roadmap update. The reason we included TKY in this list is for a few reasons. 1 – Obviously TKY is under 1 Cent. | 2 – The potential upside is extraordinary considering the current price. | and 3 – going off of the charts, TKY could be starting to see a reversal if the overall market allows it. We've got a feeling the FOMO will kick in hard when it gets moving.
5 | Mainframe (MFT)
Decentralized Application Platform
Data provided by CoinRanking.com
Mainframe or MFT is one of those projects that has been lucky enough to skip the bear market in a sense. They only came onto the scene in July after the big fall from January 2018 and the subsequent dip after the April/May run. This gives MFT the advantage of not having a lot of resistance levels in terms of price which means more opportunity for price discovery. Being just under $0.01 at the time of writing (October 2018), we've got a feeling we won't be able to feature MFT in a list like this again. With the market stabilizing to a degree, projects such as MFT now have the opportunity to find higher and higher support levels as the market improves and considering MFT only has a Market Cap of $26 million, there is some serious upside potential here.

We've seen various updates and partnerships coming from Mainframe although they've been keeping everything pretty humble and not hyping anything up. A partnership with Telefonicas Innovation Arm  was announcned and their latest Product Update covers what they accomplished over September 2018. 
Mainframe is the platform for decentralized applications. Resistant to censorship, surveillance, and disruption, the Mainframe network enables any application to send data, store files, manage payments, run tasks, and more. With the exception of a catastrophic asteroid event or an aggressive alien invasion, the Mainframe network is simply unstoppable. We build with five fundamental principles as our guide.
Mainframes Roadmap is incredibly detailed and well structured. Sectioned off into their own smaller roadmaps; Platform Experience, Communications, Storage, Identity and Architecture & Tooling. With plenty to look forward to we're keeping and eye on Mainframe as they keep their heads down and work hard as usual.
Keep an eye on the Mainframes Blog. With a more than a few updates every month, you should be well read on what they're up to, especially if you hold some MFT yourself. No excuse not be keeping up with your investments!

If you're looking at the charts to estimate price movements, it's pretty obvious that MFT has gone through a sort of "accumulation phase" over the past few months and we may now start to see an upwards movement. As long as the big bad BTC behaves and we don't see another breakdown in price, Altcoins such as MFT "should" thrive over the next few months. (Not financial advice and all of that)