- Sponsored Position -
We Don't Sell Good Reviews, But We'll Sell You This Space?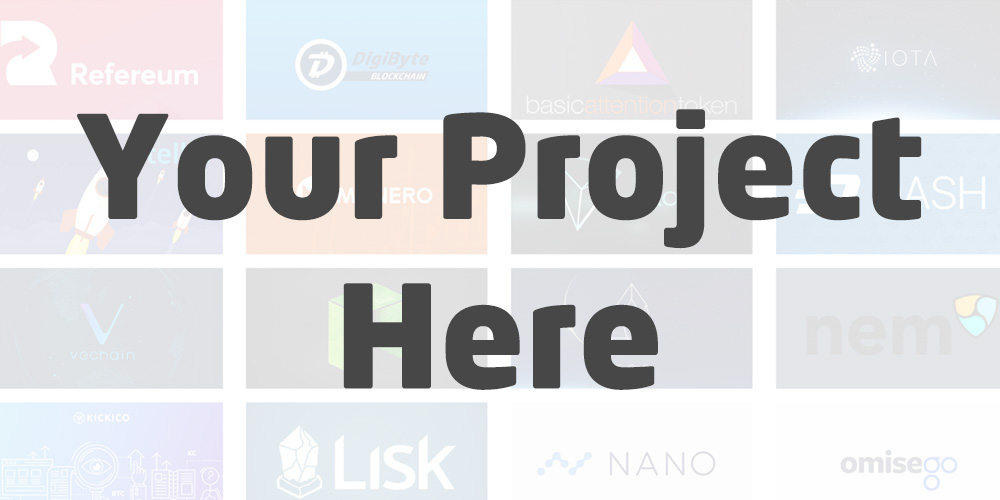 Numbered rankings are not an indication of project strength. All projects are ranked equally, despite listing position.
1 | TomoChain (TOMO)
Building An Efficient Blockchain Infrastructure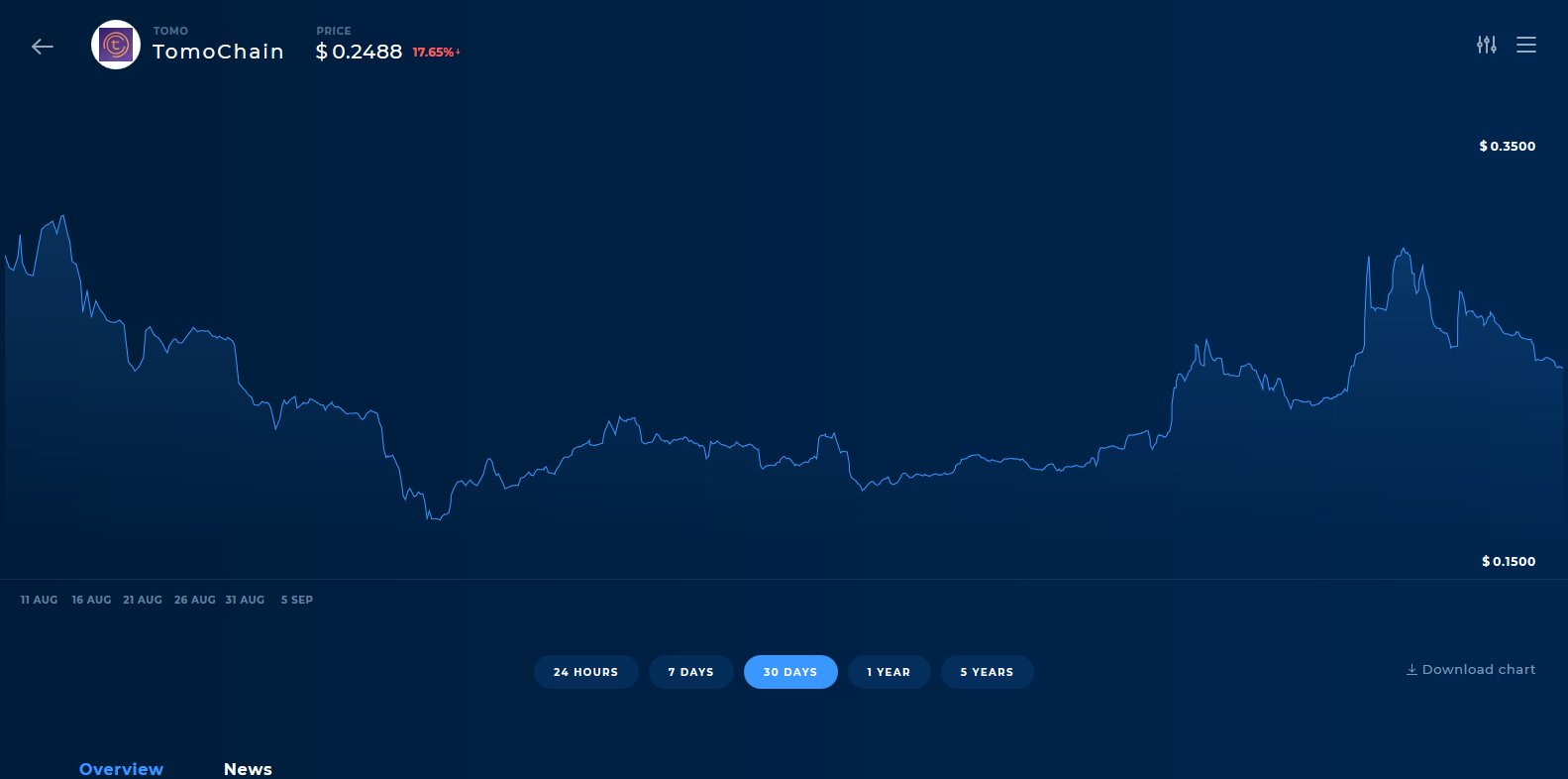 Data provided by CoinRanking.com
Tomochain recently released their Public Testnet 2.0. We highly recommend trying out their Wallet/Faucet and testing out the network for yourself (Full Article)

Developments have been consistent. Github activity is extremely active

Recent Listings on Yobit & Cryptology. Recent partnerships with FarmaTrust and Edenchain.
TomoChain is an innovative solution to the scalability problem with the Ethereum blockchain. TomoChain relies on a system of 150 Masternodes that can support near-zero fee, and 2-second transaction confirmation time. Security, stability and chain finality are guaranteed via novel techniques such as double validation, staking via smart-contracts and "true" randomization processes.

Q4 2018 will see Tomochains Mainnet launched, Testnet sharding enabled and Wallet integration into their Governance Dapp.


We may be reaching a bit ahead but Q1 2019 is perhaps even more exciting with DEX integration in the works. ICO Templates will also be available for developers looking to utilize the Tomochain platform for their Dapps

Partnerships with Bigbom, Te-food, Edenchain, Farmatrust, etc will start to develop and grow. Keep an eye on social media channels for the latest news.

2 | Quant Network (QNT)
Connecting the World's Networks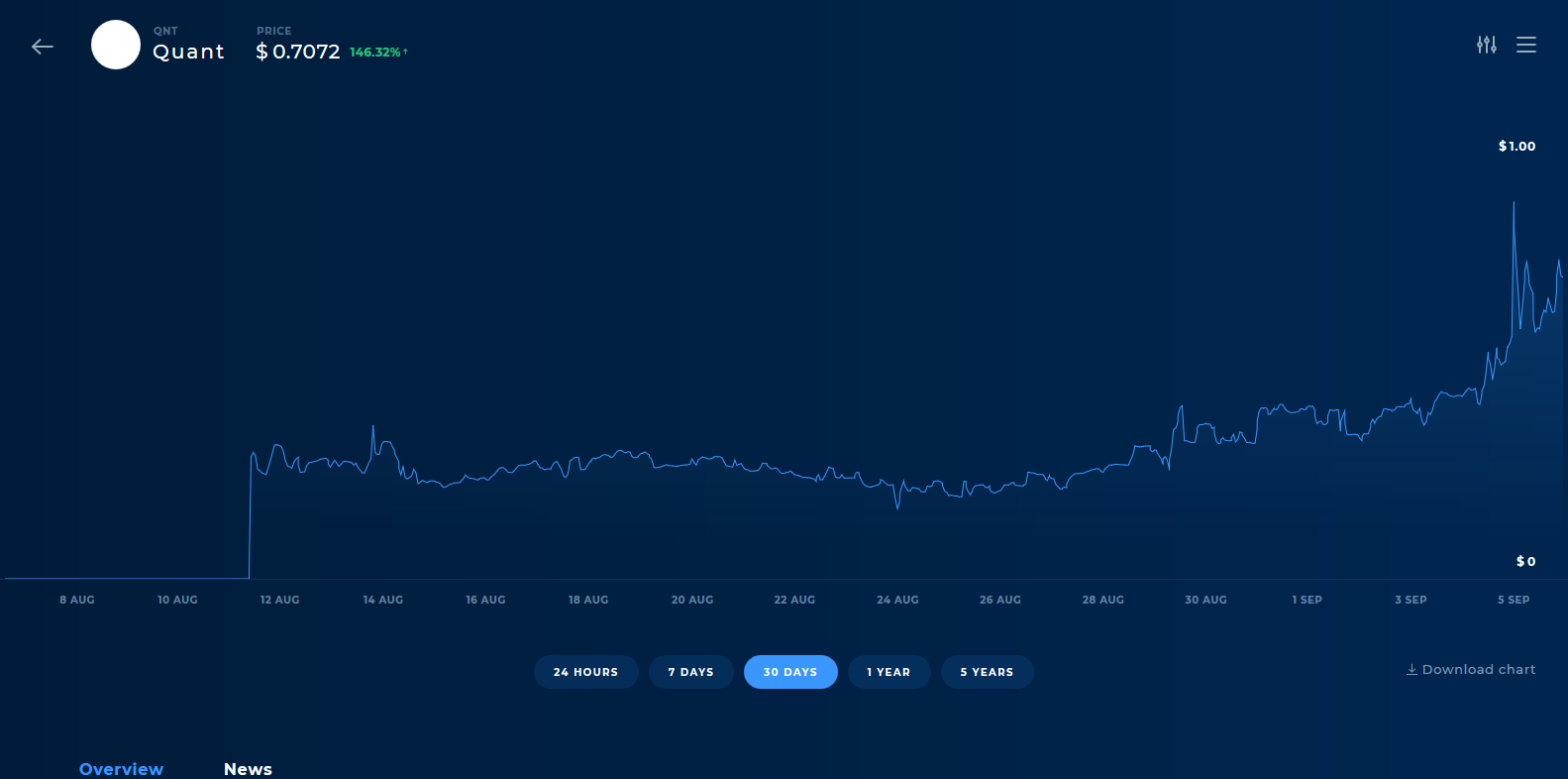 Data provided by CoinRanking.com
In a recent Medium Post by Quant Network, they show off a sneak peek into the progress being made on their Developer Portal. Always great to see development being show off especially with relatively new coins.

Quant Network or more specifically their token QNT has seen a phenomenal rise in value over the past 30 days considering the current market behavior. Racing up 140% over a 30 day period, QNT is still less than half price when compared to the ICO price.

London-based Quant Network is set to revolutionise blockchain technology with the development of their blockchain operating system Overledger. The experienced team are determined to fulfil the original vision of the internet by creating an open trusted network for people, machines, and data to operate securely and safely.
According to Quant Networks Roadmap, Q3 2018 has involved a lot of patent filing. We could not verify whether the SaaS product release milestone has been met yet, but we're only just into Q4 now. Exchanges are no doubt on the horizon, too.


The more exciting milestones are scheduled in for Q1 2019 where Quant Network will release the Quant App Store and their Open Source SDK (Beta). Plenty to look forward to here. Great investment if you are in it for the long run. 
3 | Unibright (UBT)
The Unified Framework for Blockchain Based Business Integration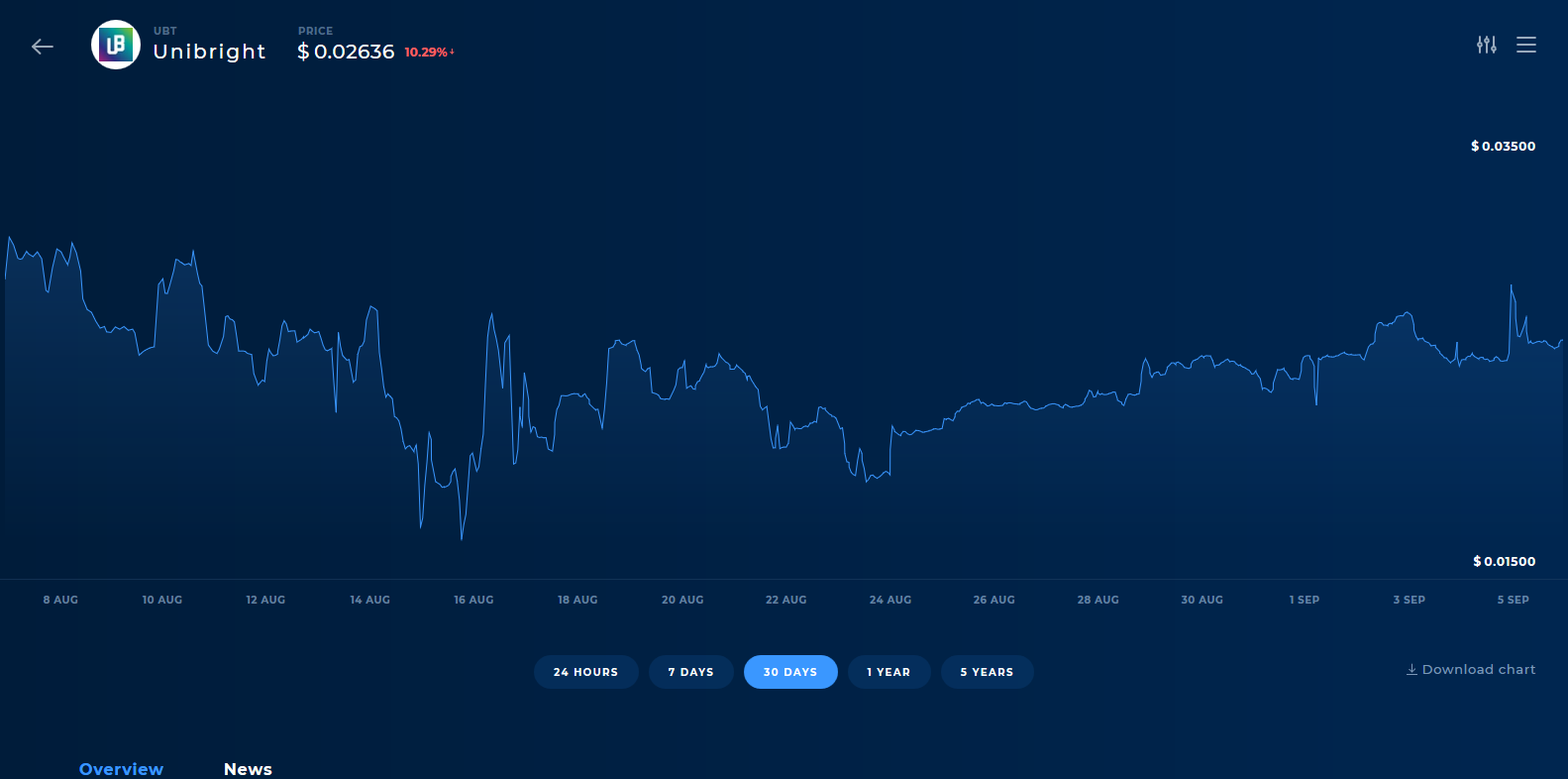 Data provided by CoinRanking.com
Unibright recently announced a strategic partnership with NEM (Full Article)
Development seems to be progressing at a great pace. Unibright recently released a Medium Post detailing their current state of development.

Unibright is a team of developers with 20+ years of experience in business integration. Nowadays most companies have a strong interest in Blockchain technology, but struggle to use it. That is why we created Unibright Framework. Unibright makes it easy to integrate Blockchain technology into existing business.
Q4 2018 will see Pilot Customers get onboarded. A Beta version of their Workflow Designer, Lifecycle Manager Explorer and Unbright Connector will be available.

No specifics, but 2019 will see more templates and blockchains added to Unibrights library. Production readiness will be a priority as features move out of Beta.

4 | Nexo (NEXO)
The World's First Instant Crypto-backed Loans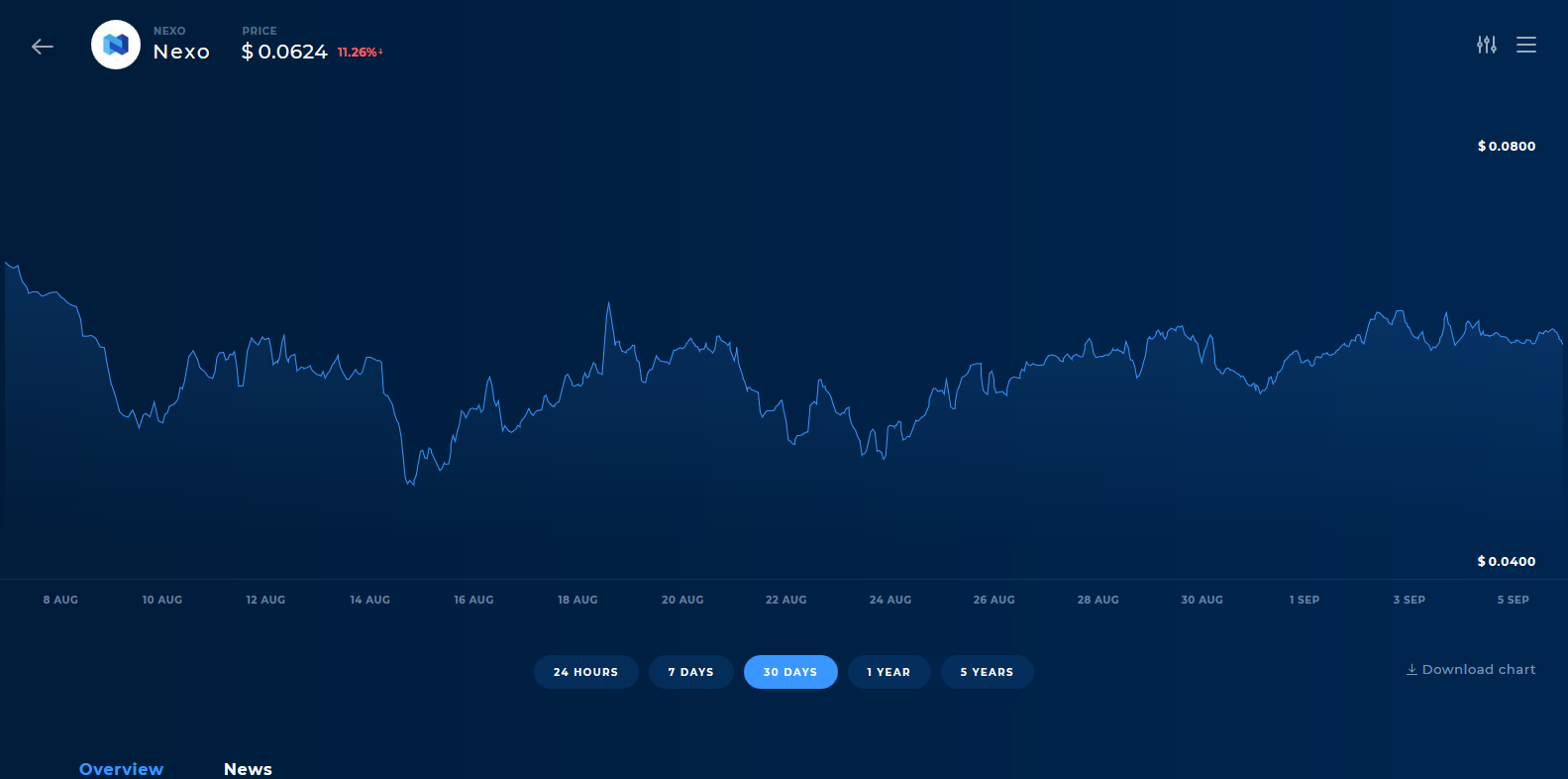 Data provided by CoinRanking.com
NEXOs Twitter has been extremely active regarding news releases and development updates. Thousands of clients being serviced with millions of loans weekly according to the Team.

Social Media Sentiment is extremely positive from what we've seen. Plenty of people bragging about how quickly and easily they got their loan from Nexo.

Hard to verify when these milestones were achieved but Q3 2018 saw Additional Altcoins and Tokenized Assets gain support on the platform as well as the successful implementation of Automatic KYC/AML Verification. Several other Q3 milestones aren't "ticked" but we're only a few days into Q4 at the time of writing.

Don't sell your crypto. Don't lose the upside potential. Get an Instant Crypto-backed Loan from Nexo. Nexo is powered by a leading FinTech group serving millions of people across Europe for over 10 years, while being strictly supervised by multiple European Banking and Financial Services Regulators.
Q4 sees an increase in Maximum Loan Limits and a second Nexo Airdrop Campaign. Two new payment partnerships are in the works and USD fiat loan waiting lists should be removed in September 2018.


NEXO Token Dividends will start "before 20180 is over", rewarding NEXO holders with a passive income from the companies profits. 

Nexo Credit Cards are scheduled for the end of September pending authorizations.

5 | BigBom (BBO)
A Platform for Decentralized Advertising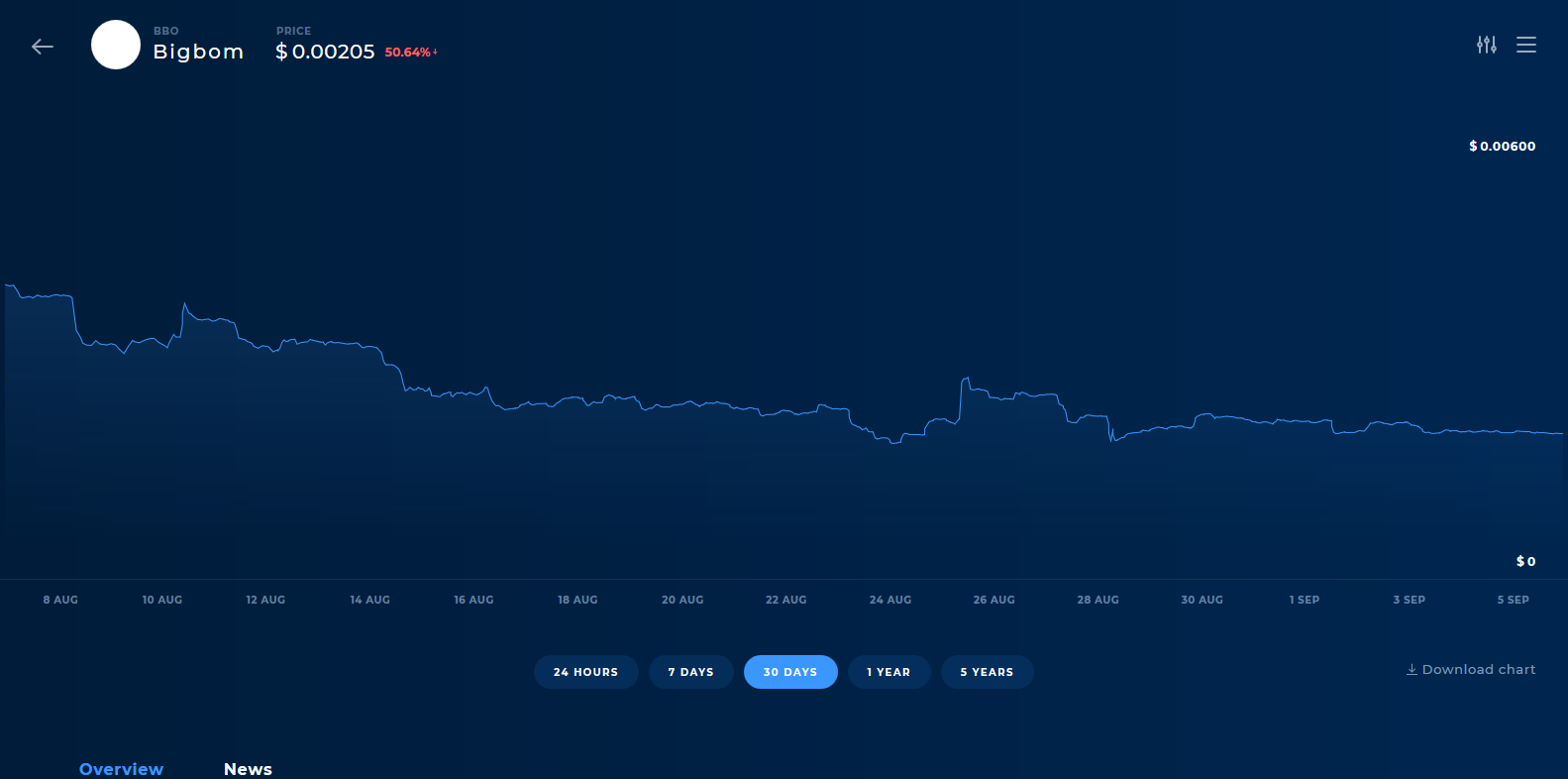 Data provided by CoinRanking.com
BigBom was listed right in the middle of a downtrend in the market and as a result the price/value of BBO has suffered greatly. Investors who are looking to scoop up a pretty good looking project for an incredible price can do so with the current price being 0.07x of the ICO price.


Recent partnerships with projects such as Tomochain suggests that development hasn't halted and the Team are moving forward as usual. BigBoms Github has been very active lately, Investors should keep an eye on this.
Bigbom Eco serves as a decentralized advertising ecosystem for all parties involved in online advertising, inclusive of advertisers, service providers, content publishers, advertising channels, platforms. Bigbom Eco is being developed using smart contract, running on Ethereum blockchain. All data linked through Bigbom Eco is transparent, accurate, automated and immutable.
The end of 2018 will see the Alpha Version of Bigboms Eco Marketplace go live and the Beta Version of Bigbom iAds will join it.


Quarters in 2019 will see Alpha/Beta Versions slowly transition into Stable Versions and customer engagement is a focus specifically in Korea/Japan/US/SEA. 9,000 Advertisers are expected to be using the BigBom ecosystem by Q3 2019